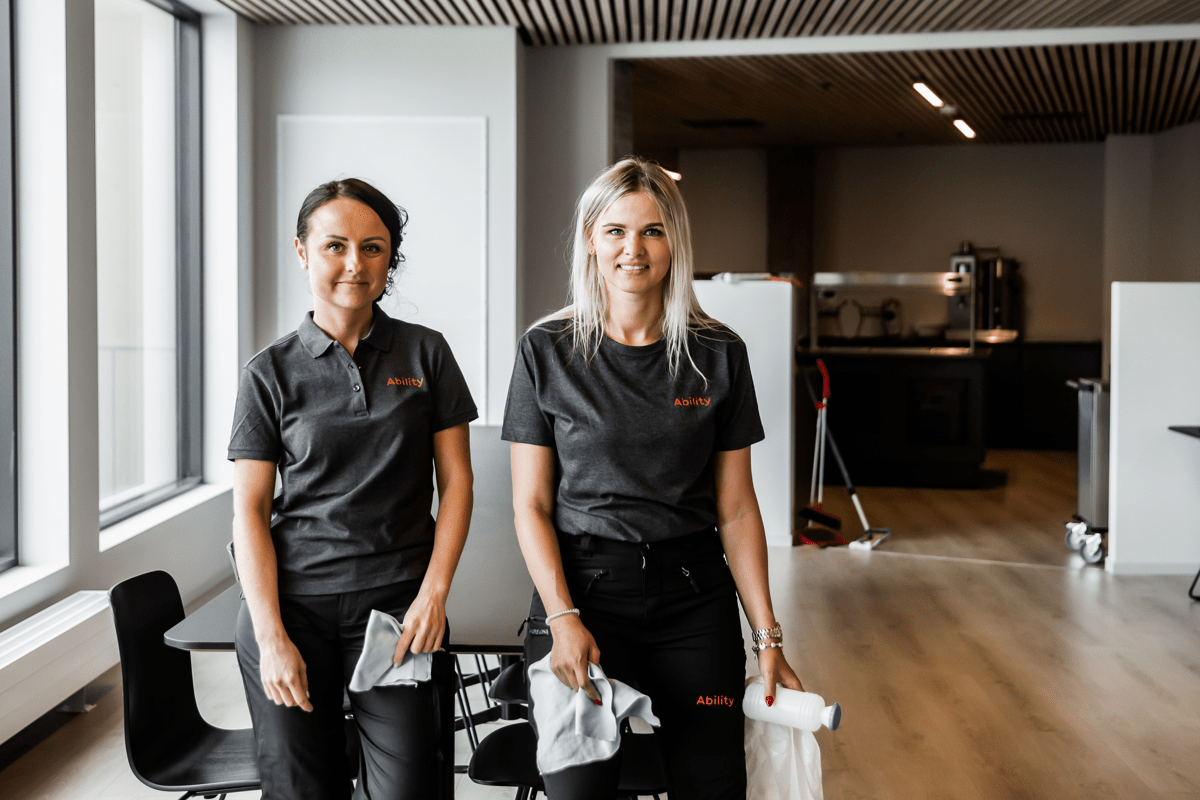 Do you want to work with us?
Welcome to the Ability family. In Ability, 1300 committed employees already work in a hectic and fun workplace where we care about each other. With over 2000 projects spread over more than 500 customers, there are many small and large challenges that must be handled every single day. Flexibility is a key word, and with us the days do not get boring. We work continuously to get better, to ensure customer satisfaction and for everyone to thrive in an inclusive and good working environment. After 30 years of operation, we can look back on a fantastic journey - will YOU be part of the continuation?
Why you should work at Ability?
Competitive

Competitive salaries

Pension

Pension and insurance schemes

Professional

Wide professional environment

Colleagues

Great colleagues

Development

Good development opportunities
FAQ
So funny that you ask! Each job advertisement states when you can expect a response. But, never more than a week

Infection control measures are in high focus and the most important thing for us is that everyone feels safe. We have introduced home office for some of our employees. We have received feedback from our employees via a survey that they are so incredibly happy with the way the employer has handled this pandemic :) So much fun!

GDPR is the abbreviation for General Data Protection Regulation, also referred to as the Privacy Regulation. This is a regulation, or a new privacy law if you will, which was adopted in the EU and entered into force on 25 May 2018. The whole point of this new law is to protect personal data and the processing of these in the EU. That is, to check that personal information about me and you is collected and taken care of in a secure way, and at the same time give users more rights when it comes to our own information. As a member of both the EEA and Schengen, the law also applies to Norway. This means that all Norwegian companies have to comply with the new privacy regulation, regardless of size, as long as they receive and process information that can be linked to individuals. Be it customers, stakeholders or own employees. Ability has a strong focus on this!

Think about the following before the first interview:

Why are you applying for the position?
How can you best give a brief presentation of yourself? What are your strengths/weaknesses in this position?
What can you offer Ability in this position?
Why did you quit your previous position?
How have you collaborated with former colleagues?
What salary do you envision?

These were just a few tips;)

We look forward to getting to know you better.

Our people love working here 👋🏼
Ability has an inclusive work environment and therefore I look forward to going to work every day.

Linda Svelund

HR-administrator Vest

At Ability, we have a strong focus on teams and collaboration. We play each other well and understand that it is together we are strong.

Kenneth Lundberg

Regiondirektør Vest

Human resources, culture and development are important focus areas in Ability. We set strategy and goals for the future and ensure that the employees are part of the team.

Vivi Osberg

HR-direktør

We have highly competent employees, modern equipment and the right choice of method that characterizes our deliveries. The customer says: You really deliver!

Arnt Erik Gangås

Nasjonal salgsleder
Do you want to work with us?